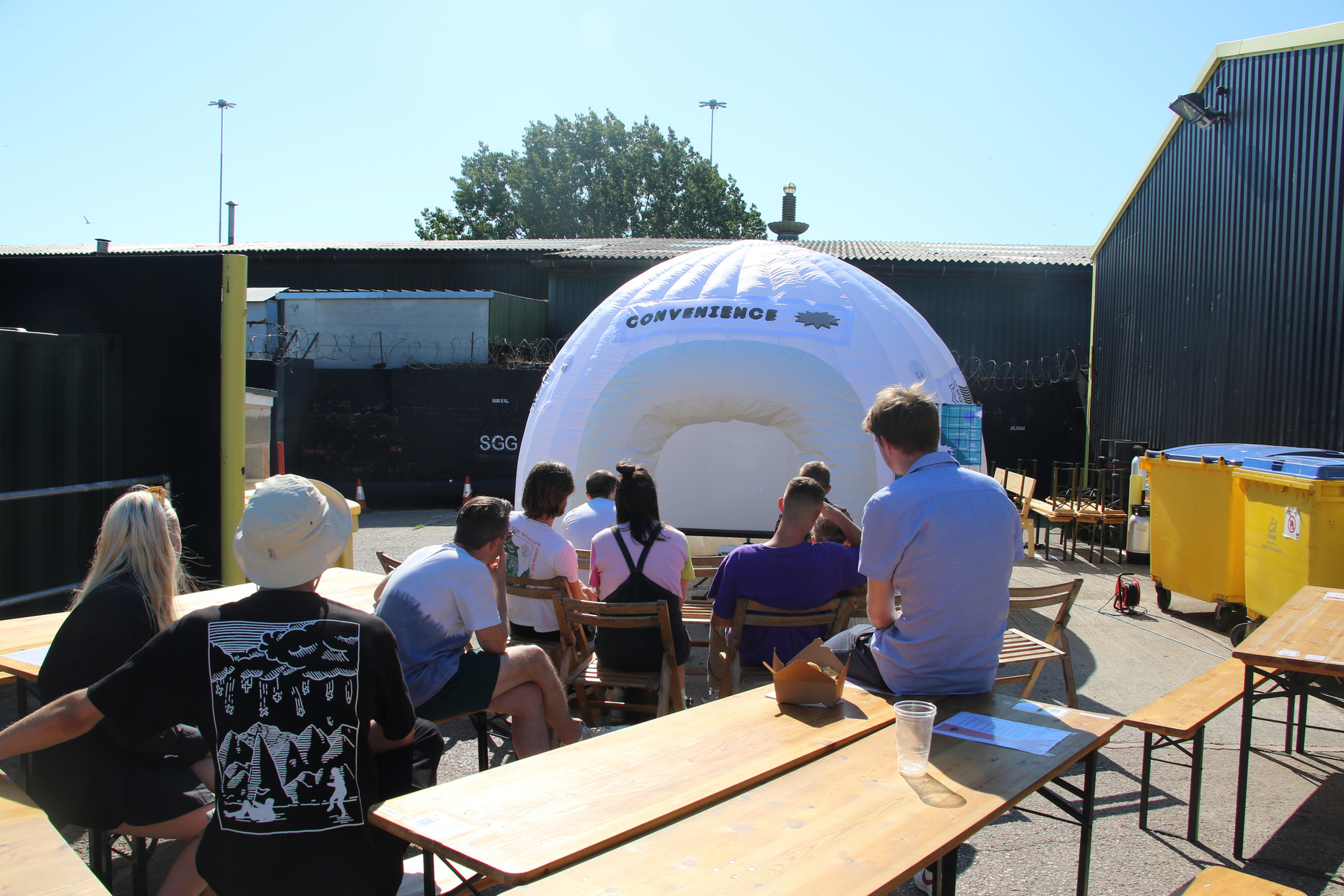 In Cahoots Programme Launch
On the 17th July we were delighted to launch our Convenience Gallery 2021/22 arts programme happening in Birkenhead, called In Cahoots. Convenience Gallery CIC is a contemporary and community not for profit arts organisation based in Birkenhead. This programme will feature free to access exhibitions, workshops, talks, and more!
On the launch day you could pick up a free physical copy of the programme introducing all of the artists, and listings for the year ahead. There was interactive artworks, live performances, musicians and DJ's, a 30 second shorts screening, food, drinks, and was mindfulness sessions lead by the Bazaar & Open Door Charity team too.
From the day:
"Wondering what to expect with our programme Launch?
When you head over to Bloom/Convenience on Saturday you can expect a bunch of fantastic arts performances, interventions, installations and DJs along with Bloom Bar serving up some of the finest local bevs(2pm-late). We've just checked the weather app and it's set to be a scorcher so what better way to spend a sunny Saturday than a full festival line-up of arts and culture at our lovely community space.
Alongside all the performances and activities you can come and grab one of our "In Cahoots" 21/22 programmes and check out our gallery shop (this is part of our fundraising push to help create more arts & creative opportunities in the our community).
Who's on:
We've got BIFF presenting the most recent selection of the 30 second shorts, a curated selection of 40 amazing short films from across the globe. Come and meet the BIFF and discuss all things film.
Pink Sands Studio will have a zine store with all their beautiful recent issues for sale.
Matt Lomas will be doing a VJ live visual and sound performance, which you can get involved with to learn from Matt and have a go a visual and audio manipulation
We are super excited to announce that we have got a Drag performance from Dan Chan in the early evening.
We have also got conversation spaces and arts interventions throughout the space, these playful interventions look to inspire conversation and reconsider interactions with public art. Georgemma Hunt and Ben Lunt
In the evening we have got a number of DJs sound tracking the night, with Matt Lomas back on deck @portamento and @gregedward revisiting his insane 5 hour set from our January 2020 launch party. Others TBA.
We are absolutely buzzing for the day and we hope you are too! We couldn't and wouldn't do this without the community around us. So we hope you can make it on the day and we would love to show you what "In Cahoots" has in store.
Share this with everyone, invite friends and family and bring your pets. This is our first big public event for well over a year and we are so excited to get everyone back together. (socially distanced of course)."